Day School
"Train up a child in the way he should go; and when he is old, he will not depart from it." Proverbs 22:6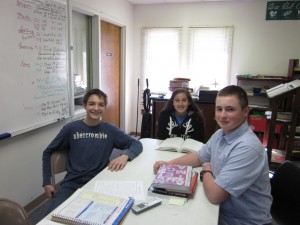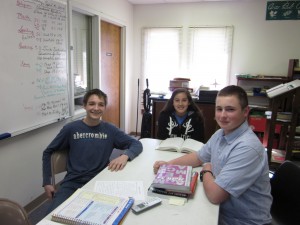 Thank you for your interest in Gethsemane Lutheran School! We hope this website will answer some of the questions that you may have about our educational program. If there are items of interest that you wish to learn more about, please feel free to contact the school by phone at 989-790-8058 or 989-792-9390 or 989-792-3607  or by e-mail at wilkesaginaw@sbcglobal.net.
OUR PURPOSE AND GOAL
Gethsemane Lutheran Church established a school for the purpose of assisting the parents in teaching their school-aged children the gracious will of our Heavenly Father in Christ Jesus and the Way to eternal life. Our chief goal in education is to share God's inspired Word by which the faith of the children is strengthened, their knowledge of God is increased, and they are enabled to strive, out of love for the Savior, to live according to God's will. For this reason, the teaching of the Word of God is all-important; it makes us wise for salvation.
"And that from childhood you have known the Holy Scriptures, which are able to make you wise for salvation through faith which is in Christ Jesus." 
2 Timothy 3:15
The education at Gethsemane School differs from the education offered at the public school, because it focuses on the needs of the body and soul and educates for life, both here and in eternity.  By God's grace, the education at Gethsemane School differs from the education offered at other religious schools, because the Word of God is offered in its truth and purity. We thank and praise God for blessing our school with a unique, Christ-centered education.
The curriculum includes daily lessons in Bible History, Catechism, or Hymnology in which God's wonderful plan of salvation is studied. In Bible History, the children learn to know their loving God and how He exerts His influence on their hearts and lives. Catechism is taught to furnish the pupil with a ready summary of the chief truths of God's Word. Hymns, Bible passages, and parts of the Catechism are memorized to provide a source of comfort, joy, hope, and strength in times of tribulation and a weapon against temptation throughout life.
All secular subjects are taught in the same spirit, namely, to show how God in Heaven has created mankind and has used mankind to serve His purpose. The students are taught to use the gifts that God has given them to the best of their ability in order to serve both God and their fellow man in a God-pleasing manner. In our school, the secular academic subjects are subservient to the Word of God, "That you may proclaim the praises of Him who called you out of darkness into His marvelous light." 1 Peter 2:9.
The secular subjects are used to show our students the wonderful works of God and above all to make them realize the blessing bestowed upon the world by the overwhelming grace of God in Christ Jesus. This knowledge fills them more and more with one great desire, in all humbleness to thank and praise, to serve and obey their God. This is our sincere goal, and with the help of God, we strive to realize this goal.
Our Teachers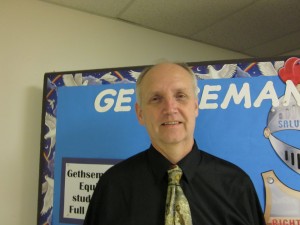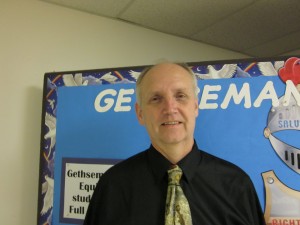 Principal Daniel Barthels was born in Red Wing, Minnesota. He attended Immanuel Lutheran College in Eau Claire, Wisconsin, graduating in 1980.  Dan's first teaching call was to Faith Ev. Lutheran School in Markesan, Wisconsin. He served there teaching various classes in the 1-5 grades from 1980-1994. Dan accepted a call to be principal and teacher of the upper grades at Gethsemane Lutheran, Saginaw, Michigan, and has been serving there since 1994. Dan has 35 years of parochial school teaching experience. Dan was united in marriage with Kathy (Brandle) Barthels, of Saginaw, Michigan, in 1980. They have been blessed with seven children, and eleven grandchildren.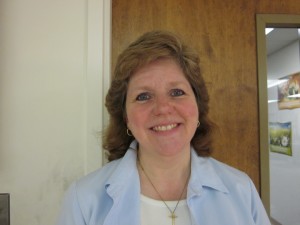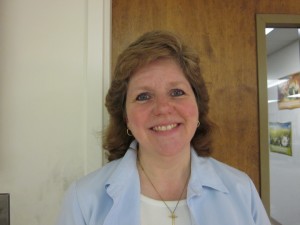 Teacher Gloria (Reim) Wilke was born in Seattle, Washington. She attended Immanuel Lutheran College in Eau Claire, Wisconsin, graduating in 1986 with a Bachelor of Science Degree in Education.   Gloria's first teaching call was to Gethsemane Ev. Lutheran of Spokane, Washington, where she taught from 1986-1990. She also taught at Good Shepherd Lutheran Academy in Rapid City, South Dakota, from 2000-2002. Gloria has been teaching various grade levels at Gethsemane Lutheran, Saginaw, Michigan, since 2003. She has been a full time teacher in the lower grade class room at Gethsemane of Saginaw since 2008. Gloria has 18 years of parochial school teaching experience, as well as several years of home schooling experience. Gloria was united in marriage with Michael Wilke, of Austin, Minnesota, in 1990. They have been blessed with four children.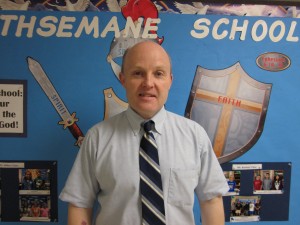 Pastor Michael Wilke is our full time pastor here at Gethsemane Ev. Lutheran since he was installed in August of 2002. He grew up in southern Minnesota, and graduated from the seminary in the spring of 1988 from Immanuel Lutheran Seminary in Eau Claire, WI. Before serving here in Saginaw, MI, he served as pastor at Gift of God Lutheran of Fairfax, Virginia (1988-1992), and Good Shepherd Lutheran of Rapid City, South Dakota (1992-2002). Along with the Sunday services and various Bible studies, Pastor also enjoys conducting information classes for anyone interested, pre-marital, marital, and other types of counseling, and teaches catechism and Bible doctrine classes both in and outside of our Christian day school. He and his wife Gloria were married in 1990, and have been blessed with four children.
Grades:  Pre-Kindergarten – 8th Grade
Staff:  Mrs. Gloria Wilke, Mr. Daniel Barthels, Pastor Michael Wilke